Rug Making

The use of rugs as floor coverings dates back farther than recorded history. Animal skins were f
irst used, and later, coarse fabrics of a plain weave. In colonial homes only the wealthy could afford tapestry rugs. These were too precious to walk on and were displayed as wall hangings. Because of the time and money invested in weaving fabric was reused for making rag rugs and braided rugs. Rag rugs were made from continuous strips of wool, cotton or linen cloth sewn together. Gradual improvements in weaving, along with the introduction of traditional designs from immigrants through the years, has developed into modern floor coverings.
Our tool is designed for cloth knotting to make traditional rag rugs. Also referred to as a toothbrush rug or an Amish knot rug. It is thought that a tradition of using a toothbrush handle carved into a needle started in the Appalachia region.
The exciting idea about working with fabrics are the beautiful colors and prints. Most are inexpensive and easily available. Even recycled or unused fabric items can find a new purpose as creative art projects.
Knots are made using the rag rug needle to design items in either oval, round, rectangle or square shapes. Just a few suggestions would be bowls, baskets, place mats, pot holders and free-form works of art. Other usable materials are rope, rug yarn and raffia. The possibilities for creating your own project ideas are limitless.
Included in the kit are directions, 2 bundles of pre-torn fabric strips, a handmade wooden needle, digital illustrations for a no-sew technique to join strips together and digital illustrations for constructing a rug.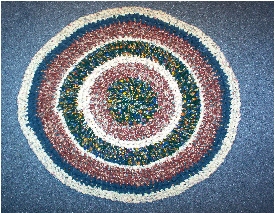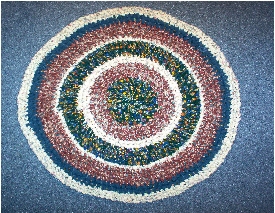 Chinatown Dig Deadwood, SD
The site of the property the archaeological dig is occurring on is across the street from the 2001-2004 archaeological investigation that uncovered over 250,000 artifacts from 1876 to the 1950s that helped Deadwood and the state better understand the impacts, significance, and day-to-day life of Chinatown and that area. Items typically found are chinaware, glassware, metals, and carbon feature items.
Sewing Notions
Cairo Sailors were responsible for mending their own uniforms. They carried sewing kits called "housewives." These kits usually contained small scissors, pins, needles, linen thread, spare buttons and thimbles.
You may also wish to visit museum virtual exhibits at: www.nps.gov
Information obtained from:
Elizabeth H. Joyner ,Museum Curator
Vicksburg National Military Park

Vicksburg National Military Park has several of the wooden toothbrushes that were discovered aboard the Civil War ironclad, U.S.S. Cairo. To my knowledge none of the toothbrushes have retained their bristles. The manufacturer of the toothbrushes is also unknown. Unfortunately, I know very little about the toothbrushes. Metal sewing needles and thread were also found aboard Cairo.
I am including a description of a couple of the toothbrushes as-well-as a description of a metal sewing needle also recovered from Cairo and in the museum collection for your information.
TOOTHBRUSH VICKC 351
WOODEN. HANDLE EDGES AND TOP ROUNDED. HEAD HAS ANGULAR EDGES. HANDLE NARROWS TOWARD END. BACK IS CURVED UPWARD (WARPED?) UNEVEN BROWN PAINT, SOME WORN OFF. HAS SHINY FINISH. NARROW NECK. HEAD HAS 4 ROWS OF TINY HOLES (22 HOLES PER ROW) TO HOLD BRISTLES. NO BRISTLES EXTANT. HEAD NARROWS AT ROUNDED TOP.
TOOTHBRUSH VICKC 1027
WOODEN TOOTHBRUSH. HANDLE EDGES AND TOP ARE ROUNDED. THE HANDLE IS ARCHED SOMEWHAT AND FLATTENS TOWARD THE END. THE NECK IS NARROW. THE HEAD NARROWS TOWARD THE TOP, WHICH IS ROUNDED. HEAD HAS 4 ROWS OF TINY HOLES TO HOLD BRISTLES. NO BRISTLES EXTANT. MEDIUM DULL BROWN COLOR, FAINT SHINE. HANDLE HAS SEVERAL SPLITS ON EACH SIDE. BROKEN IN TWO AT THE NECK. THE BACK OF THE HEAD IS SPLIT, PIECES BROKEN OFF.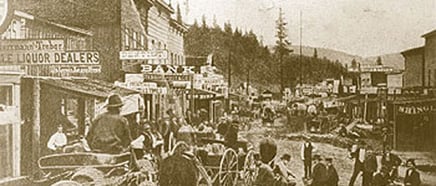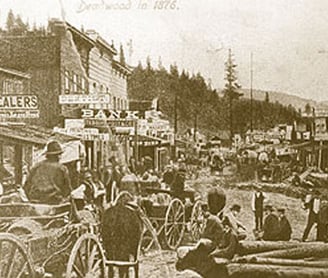 Toothbrush c 1862
Miraculously, wooden toothbrushes survived, albeit without their bristles, even after having rested on the bottom of the Yazoo River for over 100 years. Wood. L 15.4; W 1,3 cm
Vicksburg National Military Park, U.S.S. Cairo Museum, VICKC 1027





.Wooden Toothbrush VICKC 351, Vicksburg MP Museum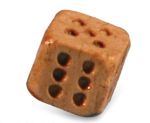 SEWING NEEDLE VICKC 481
LARGE NEEDLE MADE OF FERROUS METAL. AT THE TOP THE NEEDLE HAS TWO SIDES. THE MAIN PART HAS THREE FLAT SIDES. THESE SIDES TAPER GRADUALLY TO FORM A SHARP POINT. RECTANGULAR EYE. IMPRINTED ON ONE SIDE IS "R. Schofield."
Coppergate antler needles along with many made from bone.
Neolithic period of Eastern Europe about 5000 years ago.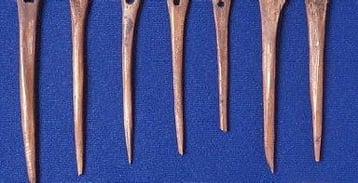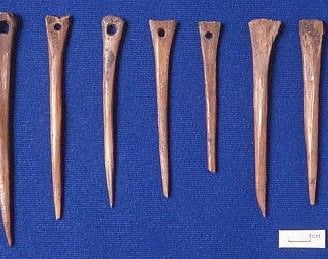 Two surviving antler needle like objects, as well as many in bone, were found in the Coppergate digs. One, ref# 7919 (MacGregor, et al. p. 2001), is an undecorated antler tine, 103 mm long by 14.1 mm wide by 12 mm thick. It has a hole through top at a 45 degree angle, entering through the top of the tine and exiting one side. This could have been used as a nalbinding needle:
Origins and history.
The technique of working a fabric of interlocking loops with a needle and thread may be traced back as far as the neolithic period. From C4-C6 Egypt there are several examples of sandal socks worked in a form of naalbinding which resembles true knitting, and for this reason the technique is sometimes called 'single-needle knitting', to distinguish it from knitting on two needles.
From the Viking period there are two examples of naalbinding mittens from Iceland and some fragments from graves in Finland. There is also a panel of gold mesh worked in the technique in a C10 silk from Mammen, Denmark, and from further afield, a naalbinding cap from C9-C10 Antinoe, Egypt. From Novgorod, there are nine fragments of naalbinding but only one of these is C10, the rest being medieval. Most examples of the technique from the medieval period come from excavations in Scandinavia, Finland, Poland, Russia and from wealthy royal and ecclesiastical tombs scattered through Europe. A naalbinding sock was also found from late medieval Uppsala, Sweden. The technique is best know from mittens, and appears to have been climate-dependent as, apart from Northern Europe, it is also widely know in the mountain areas of Central Asia, where it is still as common as knitting is here.