Rag Doll
The first dolls were made out of corn husks, wood and wax. Rag dolls were introduced during the American Colonial period 1630 to 1762. Manufactured dolls where expensive and hard to get.
Perhaps the pioneer rag doll was an invention of necessity. Families moved away from home, often as part of a wagon train or on long voyages aboard a ship, for better opportunities. Children had to leave behind their toys. A doll, often made out of rags provided comfort and security along the way.
Church dolls, a plain-faced doll would often accompany small children to church. These has no button or zippers incase it were dropped, or made noise, during services and other times of quiet.
Bangwell Pitt is thought to be the oldest surviving rag doll in North America. The doll is 15.25 inches tall.and was named by Clarissa Field of Northfield, Ma., who was born blind. Notice how the doll has fingers and no facial features.
All materials for making a rag doll, directions for making more dolls and easy-to-follow digital images are included in the kit. All you will need are a pair of scissors and a 12 inch ruler. The completed doll size is approximately 13 in tall and 12 inches across her out-stretched arms.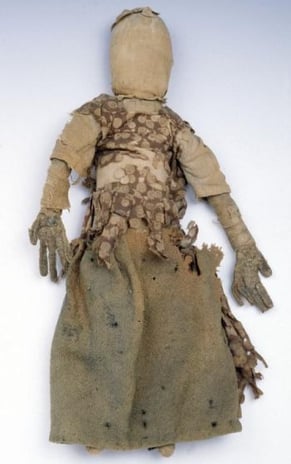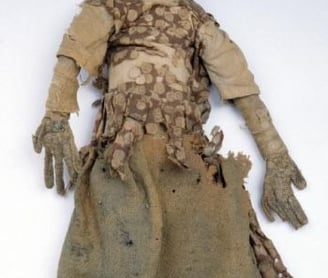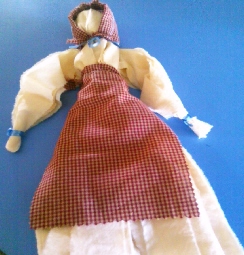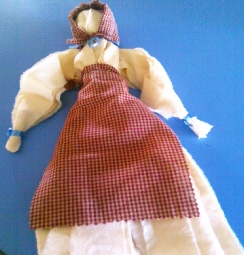 Clarissa Field of Northfield, Massachusetts, was born blind in 1765. This doll was made for her and she fancifully named it Bangwell Putt. Bangwell lacks facial features but her ten carefully constructed fingers suggest the importance of touch in Clarissa's world. Bangwell has a homespun body and is dressed in 18th century fashion, including corset. Clarissa kept Bangwell until she died in her eighties. Bangwell Putt is thought to be the oldest surviving rag doll in North America. 15.25in tall. With permission; Online exhibit, Pocumtuck Valley Memorial Association, Deerfield, Ma. Massachusetts
As part of the The British Museum collection is a rag-doll of Egyptian origin dated the 1st C - 5thC. Made from linen stuffed with rags and papyrus. The arms are made from a long roll of linen attached at the back. Coloured wool, now faded, was applied to parts of the face and body. The presence of a small blue glass bead attached to the proper left side of the head suggests a hair ornament. This doll is not currently on display. For more information visit the exhibit online provided by© The Trustees of the British Museum.