Historic Craft Kits ~ Artwork ~ Books
Olde Tyme Arts and Crafts
Cindy Walter was born in the rolling hills of Kentucky and grew up in Florida. She started crafting as a child by making handmade gifts for family and friends. Cindy, along with her husband, enjoys visiting historical parks and living history museums all over the country. This became the inspiration for her fiber and textile crafting as a way of recapturing the feeling of a bygone era. Cindy has demonstrated crafting for Dollywood Theme Park, Museum of Appalachia Tennessee Fall Homecoming, University of Florida Calusa heritage events, as well as many other historical museums.
Garry Walter was born in the foot hills of the Allegheny Mountains in Pennsylvania, where he earned his Associates Degree in specialized technology. He has been an air conditioning contractor for 30 years. He has lived in Florida since 1979, where he and his wife design, sell and teach historical crafting to living history museums. Locally, Garry and his wife Cindy, have been affiliated with Historic Spanish Point, Manatee Village Historical Park, Museum and Nature Center, and Cracker Country. He has always had an interest in old structures and wildlife which he interprets through paintings in water color and drawings in pencil.
Garry has studied painting with many recognized oil impressionists. He has furthered his education with nationally renowned watercolor and pencil sketch artists. His work is on display at local art galleries, several wildlife refuges and the Audubon House in Key West. Recently some of his artwork was selected as set props for the movie Dolphin Tale and Dolphin Tale 2. They are on display at the Clearwater Marine Aquarium, where the movie was filmed.
He collaborated with author Amy Elder, on the children's archaeology book, Portal to Florida's Past, and was featured on the 2014 summer cover of the Peppertree Press, a quarterly magazine for book publication. His most recent work is a Christmas history book Timeless Santa, about St. Nicholas in poem which he has researched, written and illustrated.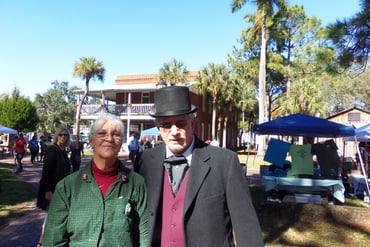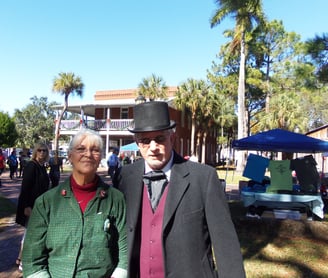 Olde Tyme Arts and Crafts is a company created out of a passion for preserving history through art, crafts and education. .
We are eco-friendly and care about sustainability. Whenever possible we reduce, reuse and recycle. As well as look to source natural, sustainable, and quality materials.